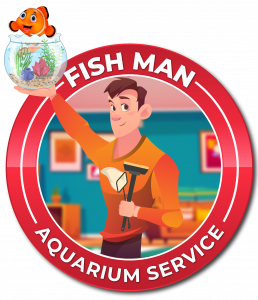 Howdy!
Welcome to Fish Man Aquarium Service, Inc. We design, install, and service beautiful aquariums all over the Tarrant County area. From a small desktop unit to the aquarium of your dreams, we can create an eye-catching display which will become the centerpiece of any room.
We design and maintain aquariums for schools, businesses, day care centers, retirement facilities, and residences. Let's start dreaming and creating together today!
Services Offered:
Design new systems and refurbish existing systems
Cleaning and maintenance
Freshwater tanks, live planted tanks, turtle tanks, indoor ponds
Fully insured and conscientious technicians
Who have we created aquariums for? Clients have included NBC television, Kids Who Care Musical Theatre, Texas Christian University, Harris Hospital, JPS Hospital, Fort Worth ISD, Burleson ISD, Eagle Mountain ISD, Colleyville ISD, Kleiman-Evangalista Eye Center, Virtuoso Travel, Attorney Jim Zadeh, and many more. References available.
"If you are ever interested in having an aquarium….and don't want the upkeep, here's your man!"  Read more in reviews
A Small Business That Cares
We've been in the aquarium business for 38 years now. Many things have changed, but our full attention and commitment to every client has not. We care about our clients and the live animals that we care for.  The relationship with you is what matters the most and we are always honored and respectful to work in the homes and businesses of so many great people.
Learn More About Us: