Unsolicited reviews from some of our clients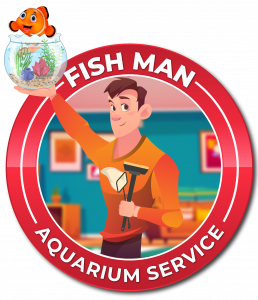 Susan F.
Troy has been servicing my aquarium for
about 8 years now. I can't say enough nice
things about him. He is not only
professional, reliable, courteous,
knowledgeable and prompt, etc, etc…
But he has also become a close friend
through the years. I literally trust him
wholeheartedly, and wouldn't think twice
about giving him the keys to my office or my home to service the aquariums. At my
office we look forward to his monthly service calls.
C.J.
I absolutely LOVE the Fish Man! The fish man has been servicing our tank for well over 15 years! Always polite and very informative! We have never had a bad experience! We look forward to many more years of business with the Fish Man!
Joseph M.

I have had been involved with owning mini reef aquariums as a hobby for over 30 years. Almost 25 years I have relied on the Troy's – Fish-man Aquarium Service-expertise in caring for and maintaining my 5 mini reefs – home and office. In addition he cares for my Amazon fresh water aquarium.
He knowledge base, attention to detail, availability to help resolve an aquarium issues, and personal integrity is above reproach. If only I could rely on other services in my line of work to equal Fish-Man Aquarium Service..

C. Ferguson

I called there once to ask about having someone come out to the house to take care of this little bitty tank I had, but clearly couldn't care for. This man was so honest and so nice and so helpful. He told me everything I needed to do and said to call him anytime with questions or problems but that it wouldn't be right for me to pay what it would cost to have him come out to take care of this Little tank. I called him a couple of times after that day and he honored his word, never making me feel like he didn't have time. I never felt rushed or stupid about any question I asked. Amazing company. Love it when Integrity shines bright.

Brianna (Mansfield, Texas)

Ya'll are amazing! Gerry is so professional and knowledgeable. I'm very impressed with your company. You have won our business. 🙂

Tangelia (Crowley, Texas)

Mr. Jerry is the best!!! He goes above and all out to tell you what he's doing and why he's doing it that way… He told me on the 1st day to leave everything to him, all he wants me to do is feed the fish. And my aquarium look amazing. Not only does my Family likes it, everybody that comes over tells us all the time that it's BEAUTIFUL!!!

Bonnie (Arlington, Texas)

Just a quick note of thanks, Troy, you're the BEST!! We so very much appreciate you.

Mary (Arlington, Texas)

Oh!! Troy the tank is just beautiful!! The young men were so nice & very professional. They did such a fantastic job!! God bless you guys & those sweet guys for everything. I'm still in awe!!

B. Spiller

You do a GREAT job. We are very pleased with your company. Thank you.

P. Hernandez

I just saw The Tank its beautiful!! I love it, I Love it, I love it. I am getting so many compliments.

M. Hines

If you are ever interested in having an aquarium and don't want the upkeep, here's your man! I used to work with him at The Aquarium. You won't find a more dependable, honest or trustworthy guy. I can't say enough about him!

K. Miranda

I have known Troy, The Fish Man, and used his services for over 20 years at various institutions that I have worked for. His customer service is unmatched. He never hesitates to help us out with last minute issues and provides consistent monthly service with great attention to detail, even during the pandemic. You could not hire someone that cares more about their customers or their pets.

Attorney Jim Zadeh

Thanks for all the work on the tank and your positive attitude over the years.

L. Harris

My tank is beautiful!!! Thank you and Stephanie!!!!